Fabric and Upholstery Repair Kit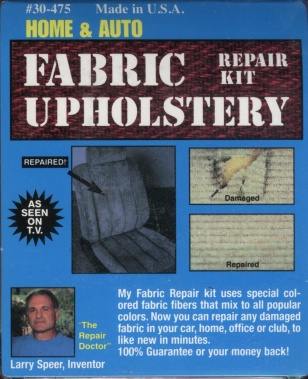 Repair any damaged Fabric with this easy to use Kit from The DoItYourselfStore. That carpet that you thought was ruined, you can make look like it did on the day it was installed. Every home and office has dozens of little eye sore damages, that this great kit can repair like new! Repair any kind of fabric in your auto or home.

Easily repair those cigarette burns in your car seats or that rip in your sofa.

Get professional results with our do-it-yourself kit on all kinds of fabric damage!

The patented process involves applying one or two layers of clear adhesive to fill in the damaged spot. Then you mix to match the proper color and apply it to the applicator screen...the screen is placed over the clear adhesive and lightly moved back and forth, thus dispersing the color fabric fibers over the adhesive. Let the repair dry, and apply a light spray of bonding adhesive. That's it!!!

We give you everything you need in the kit to do a truly professional repair! This kit contains; 7 Fabric fiber colors, fabric adhesive, spatula, mixing bottle, screen applicator, color mix chart, and complete instructions.

How the repair works:

Using the color mixing chart mix the colored powder fibers together to obtain the desired color. Apply the adhesive to the damaged area then apply the powder to the wet adhesive press the powder down with the spatula duplicating any pattern in the fabric.


SPECIAL INTERNET VALUE - This kit contains four (4) times as much product as our retail store kit!



The kit comes with complete, easy to follow instructions and (7) seven different fiber powder colors. With these you can mix to match any color! With just a little practice, we show you how to match patterns and designs!